Recreate the Carnival at home all year around!
RITZ marshmallow snowmen
Preparation time 
20 minutes
Makes 8 servings of 3 topped crackers (30 g) each
Ingredients
12 marshmallows, cut in half diagonally
48 miniature semi-sweet chocolate chips (3 tablespoons)
24 orange beads (2 teaspoons)
24 pretzel sticks, cut in half
24 Ritz crackers
2 tablespoons marshmallow cream
Preparation
Decorate the uncut side of each marshmallow with 2 chocolate chips, 1 orange bead and 2 pretzel pieces to form a snowman.
Spread marshmallow cream on crackers.
Garnish with the snowmen, cut side down.
—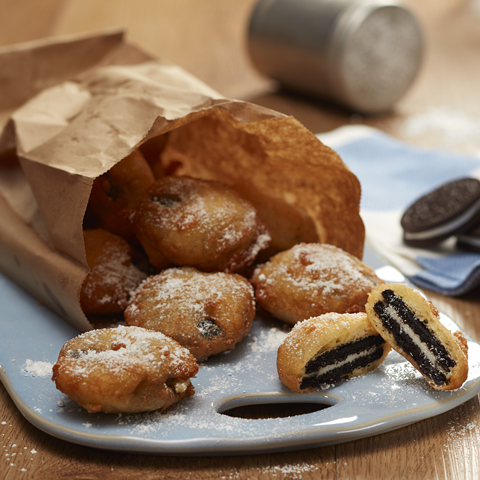 OREO Filled "Doughnuts"
Prep time
20 min
Total time
50 min
Servings
Makes 36 servings
Ingredients
 oil
2 cups pancake & variety baking mix
36 Oreo Cookies
1/4 cup icing sugar
Preparation
Heat  2 inches oil in deep fryer to 375°F. Cover baking sheet with double layer of paper towels.
Use  pancake & baking mix to prepare batter as directed on package for pancakes.
Dip 2 or 3 cookies, 1 at a time, into batter. Carefully add to hot oil; cook 3 min. or until golden brown, turning occasionally.
Remove  doughnuts from oil with slotted spoon; drain on prepared baking sheet.
Repeat  with remaining cookies; cool completely.
Sprinkle  evenly with sugar before serving.
—
The Carnival Grog and Bonhomme's Syrup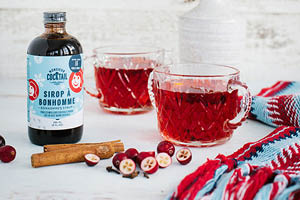 The legendary grog is a hot and often alcoholic drink once used as a remedy for the flu. No wonder the Carnival grog is so good at relieving you from the frosty weather! This delicious drink is made of Bonhomme's Syrup, a special creation by Monsieur Cocktail that features maple syrup, pure cranberry juice, cinnamon, cloves and sweet grass (Quebec's own vanilla).
Why not make your own grog at home? You simply need to buy the requisite ingredients and to follow the recipe below. Bonhomme's Syrup is available for $12.99 in select IGA stores and on Monsieur Cocktail's online store.
Carnival Grog Recipe
½ oz of Chic Choc spiced rum
½ oz of Ungava gin
½ oz of Bonhomme's Syrup
4 oz of hot water